About us
Start
The idea for the project was born in July 2011, after the Tunisian Revolution in January. With Ms Cherif from University of Carthage's Engineering School of Communications, Tunisia, Ms Baum found a motivated project partner, and the application for a grant was sent to the Elsevier Foundation in September 2011. End of December 2011, the Elsevier Foundation award "Get ahead with Optics" a New Scholars grant. In September 2012, the University of Carthage's Engineering School of Communications, Tunisia, and the Philipps-Universität of Marburg, Germany, offered a ten day summer school program to female scientific graduate students from Germany and Tunisia.
2012
In 2012, the summer school took place in Yasmine-Hammamet, Tunisia, which is located around 70km south of the capital, Tunis. Its elaborate program contained talks and sessions by 12 renowned national and international guest lecturers. For the German students, two excursions were organized to give them an impression of country and culture. The participants enjoyed the diversity of cultures, and at the same time their common interest in optics. As most of them studied in male dominated fields, they found it positive to share their scientific experiences with like-minded girls, for a change. Furthermore, the participants enjoyed the atmosphere and practiced speaking in front of a small audience. The scientific talks as well as the sessions on soft skills and the round table discussions with female scientists built a well-composed program, which the students from Tunisia and Germany appreciated.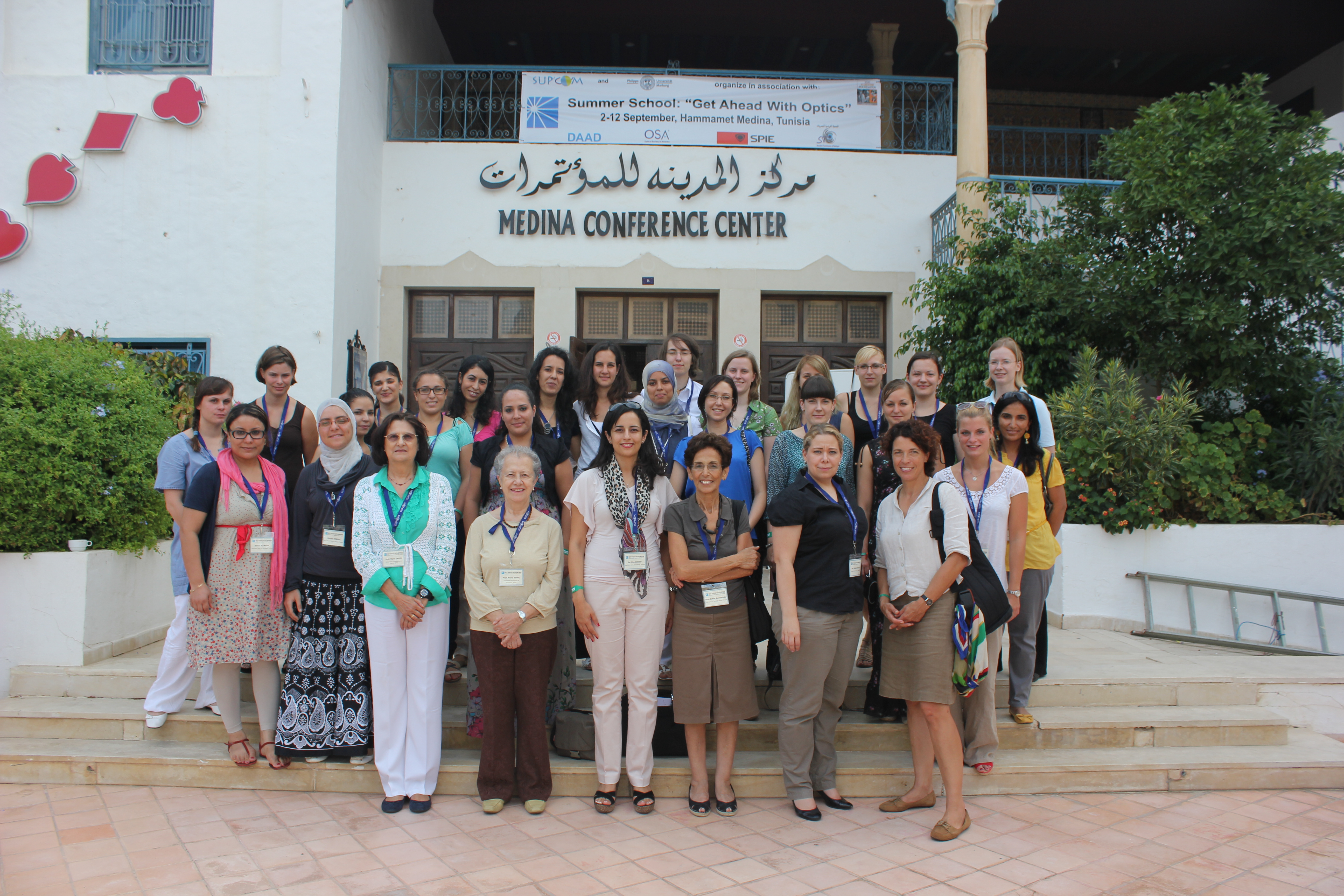 2013
In 2013, the summer school will take place in Tunisia for the second time. The program will be organized by Ms Baum, Ms Peterhänsel, and Mr Gagouri in cooperation with :
· Philipps-Universität Marburg, Department of Physics, Germany
· University Stuttgart, Institute of Technical Optics, Germany 
· Supérieur d'Informatique et de Multimédia de Sfax, Tunisia
· University of Sfax, l'Unité Physique des Matériaux Isolants et Semi isolants, Tunisia
The topic of 2013 is "GET AHEAD WITH OPTICS: Ready for a Job in Industry!" and will focus on optical measurement techniques for quality and process control in industrial production processes. The program will be supported by a grant of the German Academic Exchange Service DAAD
Program and Idea
Over the last years, optics research has become an indispensable part of daily life. Fiber optics for telecommunication, medical imaging, and cancer research, optical parts in cars, computer and 3D screens are at the core of the world's technical infrastructure. The program aims to orientate young female scientists in the dynamic and rapidly evolving field of optics and photonics while providing them with professional development skills and a deeper understanding of what is needed to succeed as a woman scientist. Furthermore, the Summer School endeavours to achieve cultural exchange, scientific discussions, and collaborative work on new projects, and to prepare the participants for future success in both career and academia. It should encourage young women to stay in research after graduation or to start a career in a male dominated working field and to discover a fitting balance between family and career. For this, a daily program with three main parts is planned: an optics session with theoretical and practical lessons, a training session on career relevant soft skills and round table discussions with successful female scientist.
The Logo

The blue color often symbolizes optical parts in techniqual drawings. It is also a  typical color used for Tunisian doors and window frames. The rays stay for light, but as well they depict the multiplicity of cultures and our students. The design is by [b²] .